Ripped shamelessly from

's Tumblr-
dividually.tumblr.com/post/895…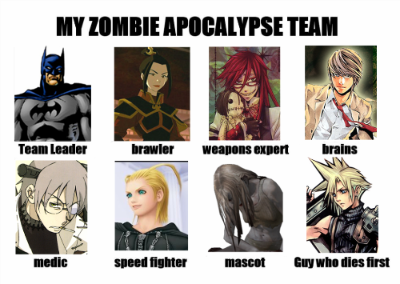 Click for a not tiny version.
Team Leader
- Do I even need to explain why I chose Batman? Seriously? It's the goddamn Batman.
Brawler
- Azula brawls WITH FIRE. Not only will she kick your ass but your ass will be ON FIRE. Freakin' badass.

Weapons Expert
- Grell has a CHAINSAW. This alone makes him completely qualified to be the weapons guy.
Because, really, when you have a goddamn chainsaw you don't need any other weapons.
Brains
- Light's a genius. Do I really need to explain why I chose him?
In before "Wai no L? D:" L DIED. L was killed by Light, therefore, Light > L. Not to mention I hate L.
Medic
- Fuck that, I'm not choosing a straight up healer- that's a waste of space. Stein's a doctor AND can kick your ass. And you don't need to be healed if you're KICKING ASS.
Speed Fighter
- Speedy Larxene sure is speedy. And will rape you with eletricity.
Mascot
- Fuck you, my team can totally have a zombie mascot in a zombie apocalypse. It's just how we roll.
Guy Who Dies First
- ...yeah VT-canon Cloud specifically. I don't imagine him living tremendously long. XD
...I thought really long and hard on this.
Serious business.